Over 30 years of IT experience
Web Projects, Content Management, CRM
---
Bernd Völcker holds a degree in business from the Free University of Berlin; he studied in the Master's program for computer science at the San Francisco State University and is a certified EDP expert. He is responsible for projects, consulting, marketing and account management at Infopark.

The Infopark Group GmbH founder is engaged in projects, innovative Internet technologies with digital marketing and business processes. His work supports customers in the development of web strategies and in the effective implementation of web projects. His specialities are project management, strategic consulting and digital marketing.
Product Development, Professional Services and Finances
---
Stefan Krause holds a degree in information sciences and has more than 30 years of experience in the development of Internet-based software and services. Stefan Krause is responsible for the administration, the organizational and technical infrastructure, support and finances at Infopark.

The Infopark Group GmbH founder is an expert for complex software systems such as ERP, customer relationship management and content management software. He is a specialist for the successful design and realization of complex SaaS offers in the Internet and the required interfaces for this via Web GUI or API. He is particularly interested in scaling software architectures.
Director Solutions & Services
The former member of the Advisory Board has an MSCS. Jens became Director Solutions & Services in 2009 to handle the growing demand for services.
Director Solutions & Services
Guido Steenkamp holds and MBA and for 15 years has been handling customer projects at Infopark. He sets up suitable teams for technical assignments and project management.
Director Solutions & Services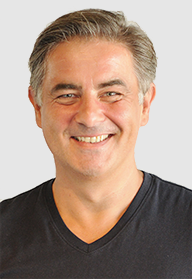 With many years of experience in software development, Detlef Pirnack is a Scrum Master developing fantastic cloud-based web applications in a highly productive team